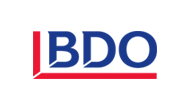 BDO provides tax, audit & assurance, advisory and business outsourcing services to companies across all sectors of the economy. The firm makes the time and effort to understand its clients' businesses and markets. BDO's partners and staff are specialists in their fields and have a proactive, flexible approach to helping clients overcome the challenges they face. They aim to be as innovative and entreprenneurial as their clients.
BDO's approach and expertise are what help it to deliver exceptional client service. Ninety five percent of BDO's clients would recommend the firm.
BDO operates from 18 locations, covering all major business centres so that it can be close to its clients. The firm employs 6,000 people who are allowed to be themselves, taking responsiblity for their work and their relationships with clients. BDO's values are also reflected in the firm's Corporate Social Responsibility and Environmental policies.
BDO LLP is a key member of the BDO global nework of public accounting, tax and advisory firms. The BDO global network provides business advisory services in 167 countries, with 91,000 people working out of 1,658 offices worldwide. It has revenues of $10.3bn. Being a member of the BDO global network enables BDO LLP to meet the needs of clients who are growing and trading internationally.